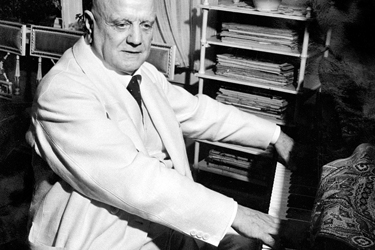 The Society wishes to bring the achievements of Sibelius's music to the largest possible readership and audience. Besides being a major symphonist, indeed one of the greatest composers of symphonies, Sibelius wrote music in many forms, which is perhaps less well known to music lovers.
He wrote an opera, choral music and cantatas, music for pageants, four string quartets, many instrumental works for violin and piano, over one hundred pieces for piano collected together in groups and over one hundred songs, mainly to Swedish texts.
His orchestral works, including Finlandia, Valse Triste and Tapiola are well known thanks to conductors performing them all over the world. But we neglect the beautiful music written for various theatre productions, including Shakespeare's The Tempest and Maeterlink's Pelléas et Mélisande and the startlingly original scéna, Luonnotar as a well as rarities including The Oceanides and The Bard.
On the other-hand the Violin Concerto is one of the most recorded of all 20th century violin concertos and soloists perform this wonderful work in concert halls throughout the world.
The British composer, Julian Anderson, Professor of Composition and Composer-in-Residence at the Guildhall School of Music and Drama in London writes:
"There is virtually no major composer working today who has not been directly affected by the work of Jean Sibelius. He is indeed definitive proof of Morton Feldman's assertion that the people who you think are conservative might really be radical".
The Society produces a bi-annual Journal including articles, correspondence, CD and concert reviews, forthcoming Society concerts etc.
The Society hosts concerts with music by Sibelius and composers he has influenced.
The Society has a collection of historic recordings by such conductors as Serge Koussevitzky, Armas Järnefelt and Nils-Eric Fougstedt and the violinist Janine Andrade playing the Violin Concerto. These are available for purchase from the Society.